I've been reading A Practical Wedding for a long time. Basically since I got engaged. It is the most balanced, inclusive, awesome wedding blog I've seen, and I am so incredibly blessed on a daily basis to be included in its community! The readers are amazing, the other vendors are so supportive, and the staff is just stellar. Today I'm not just here plugging the blog, but definitely go read it (even for you already-married people) there is so much amazing content, today we're buying the book!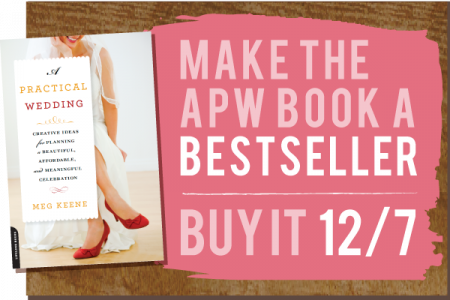 Meg, the original blog author, and CEO of Practical Media, Inc. (which has got to be the most amazing corporation name ever) has written a book! A book which several of us already-marrieds are kind of pissed wasn't written before we got married.

Today we're trying to make the book an Amazon Best Seller! How awesome is this?! (It's already a Hot New Release!!) And at $10.88 I'm sure it's an absolute steal. You can easily buy here from Amazon (free shipping! If you're a Prime addict like myself), Barnes & Noble, or Indie Bound (which helps support local brick and mortar stores near you!)
Maddie says this, which I think perfectly sums up what a wedding book should do for you: "

What the APW book does differently from every other wedding book, blog, or magazine out there is it actually

removes

things from your to-do list rather than adding to it. Meg isn't trying to convince you to buy more, do more, spend more. She just wants to make sure that the things you're buying, doing, and spending on mean something to

you.

Did you just read that? It's wedding literature that gives a shit that you're a person. Novel."



ps isn't the cover lovely!!


So go buy it for yourself! Or for a loved one planning a wedding :-)
If you'd like to see some of the beautiful APW couple I've had the pleasure of working with... you can see them here!